System solutions
for stainless steel and insulating units
for stainless steel and insulating units
Ehrenfels Cooler & Freezer Doors – a European enterprise
EHRENFELS that means cooler and freezer doors of the top class. An enterprise, that – on the basis of excellent quality – increasingly distributes its products all over Europe.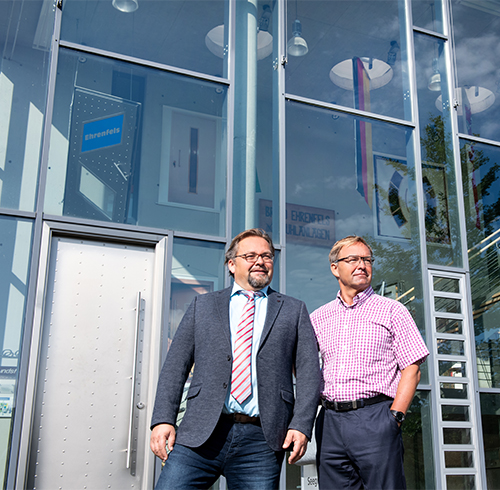 Our company is growing continuously by coordinating all performers and exploiting the potential of the market.

We know how to do it and we use this knowledge, in daily business and in change projects. This is how we increase sales and profitability.

We identify with our company as shareholders, business leaders, managers and employees, knowing that only success ensures the future.

We are in respect of new challenges, but in the same time convinced that we will be successful.

We appreciate our economic growth as a result of our team work, of the personal growth of each individual and of responsible behavior.
Our company is Europe's quality leader in the field of insulating individual panels and door systems made of stainless steel for the food processing industry. Our customers in business-to-business are retail and end customers.

Our customized products are antibacterial, insulating, non-corrosive, robust, durable and attractive.

Our in many decades accumulated experiences and expertise offer to customers safety and satisfaction in old and new markets for years.

We appreciate collegial work and pratnership inside and outside the company. We seek our customers short- medium- and long-term benefit.

Customers satisfaction is the result of the expertise of our staff and the excellence of our organization. We offer insight to our ergonomic and ecological processes.
We use our creativity and efficiency to maintain our personal and economic sovereignty.

We work cooperative over all hierarchical levels.

We are reliable partners for colleagues and customers.

We are honest and tell the truth. We give colleagues, employees and customers feedback on request.

We provide ergonomic and environmental working conditions and ensure the health of our employees.

We treat ourselves, colleagues and clients respectfully.

To preserve the proven is legitmate, to tackle the unknown is the challenge. This task we face.
The following values are the base of our company:
Sovereignty
Collegiality
Reliability
Honesty
Sustainability
Respect
Courage